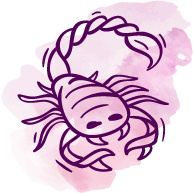 01/03/2020 by www.catherinebewtarot.co.uk 0 Comments
SCORPIO
(Oct 24 – Nov 22)
"King of Pentacles"
Dealings or negotiations of a financial nature will take centre stage this
month Scorpio. This may be in relation to a major organisation. Someone with
the authority to influence your financial status will play a role in either increasing
or decreasing what you have in the bank. Hopefully, this will prove to be the
former. If you work in the financial sector, hoping to, or planning to, then
this card advises you to be confident in your abilities, as this will be noted
by those you may seek to impress. You may have occasion to put your foot down with
someone who is spending more than they can afford especially if this impacts on an account they share with you. It may
be time to do some book-keeping, or spring clean your financial affairs. You
may be missing out on ways to gain improved interest rates or discover a tax
benefit you didn't realise you were entitled to.
Feed