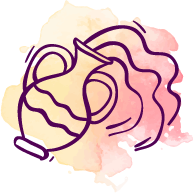 05/06/2020 0 Comments
AQUARIUS: (Jan 21 - Feb 19) "Four of Cups"
Can't see what's under your nose Aquarius? Open your eyes
and look around you. There is much to be enjoyed. Use this month to acknowledge
and give thanks for all your blessings. Shake yourself out of your "poor me"
mindset. Something very beneficial and enlightening may be just around the
corner but by, looking inward, you're in danger of missing it. Buck up, come
on, time to wake up and smell the roses.
Feed