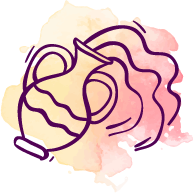 01/05/2020 by WWW.CATHERINEBEWTAROT.CO.UK 0 Comments
AQUARIUS: (Jan 21 - Feb 19) "Knight of Wands"
Raring to go, that's your mantra for May Aquarius and don't you know
it! Something or someone has given you a reason to feel optimistic about the future
and lit the spark necessary to light your fire. Use your newfound energy and
enthusiasm in the best way possible in the service of others. Your need to be
of use to a just cause and prove your worth will be priceless to the
appropriate organisation or workplace. Perhaps volunteering your skills either
part or full-time will satisfy your craving to make your days full and
worthwhile. You won't be content with sitting indoors watching boxsets as your
energy levels will be on maximum setting so don't fight it, use it! As a
natural leader others will flock to your banner, willing to be led to victory.
All it needs is for you to choose which cause means the most to you and lead
from the front.
Feed