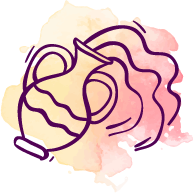 01/04/2020 by www.catherinebewtarot.co.uk 0 Comments
AQUARIUS: (Jan 21 - Feb 19) "Nine of Pentacles"
You can do no wrong this month regarding your working life Aquarius.
Expect a promotion or an award of some kind or perhaps both! This may involve a
special ceremony where you will be required to wear an evening suit/dress. Recognition
of your hard work and dedication to whatever you have been tasked with will
bring you the rewards you deserve. This will just be one more step in your continued
quest for success in what you enjoy doing for a living. You may buy that new
car you've had your eye on for a while, decide to move to a larger house or plan
an exotic holiday for the future and why not, you've earned it. You will
receive offers and opportunities to build on your success either in your
present role or by being "head hunted" by a rival Company. Home life holds no surprises
welcome or otherwise.
Feed