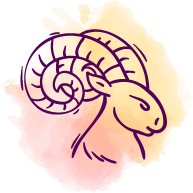 01/03/2020 by www.catherinebewtarot.co.uk 0 Comments
ARIES
(Mar 21 - Apr 20)
"Judgement"
Maybe it's time for you to re-evaluate who you
believe is important to you in life this month Aries. Take a long hard look at
the people you surround yourself with in relationships, work colleagues,
friends and hey even family. Be judge and jury. Judge yourself worthy of only
allowing those who have shown, by word or deed, that they truly love and
respect you, to share your life. You may have been thinking along these lines
for a while and your Tarot card for this month is reassuring you that, it's not
only the right time to act, it's also okay to do so. Make space for the new
people destined to join you on your journey through life, even if only for a
little while.
Feed