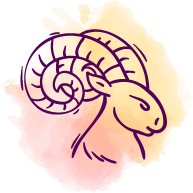 31/03/2020 by www.catherinebewtarot.co.uk 0 Comments
ARIES: (Mar 21 - Apr 20) "Five of Swords"
Conflicts will be successfully resolved in your
favour during April Aries, so a positive start to the month you'll be happy to
hear. Relationships will become more stable due to clearer communication
regarding the wants and needs of those involved. If you've been wondering when the
right time would be to look for another job or promotion in your present role then
go for it! Don't be shy in in highlighting your particular skills and abilities
as, if you don't, you may just miss out on the perfect job or career change. Be
bold, be positive, be confident. Those
of you working in a literary or academic role will be offered opportunities to
climb the ladder of success. Thinking of writing "that" book? Again, go for it!
Remember to be generous to those who may have lost out on what you have gained.
Feed