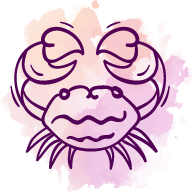 01/03/2020 by www.catherinebewtarot.co.uk 0 Comments
CANCER
(June 22 - July 22)
"Three of Pentacles"
Whatever it is you're working on keep doing what you're doing as early
success will lead to greater achievement and recognition in the not too distant
future. If you haven't already showcased your efforts or sought the attention
of those who can help promote what you do, then this month is it! The
flickering spark lit by your passion and enthusiasm for what you love to do is
about to burst into flame and catch the eye, heart and minds of those you seek
to impress. Don't be backward in coming forward in blowing your own trumpet,
the louder the better. However, one word of warning, don't work 24/7, take time
to nourish your body physically, mentally and emotionally. Neglecting to do so
may negatively impact on the quality of your work and you don't want to risk it
do you? Thought not!
Feed