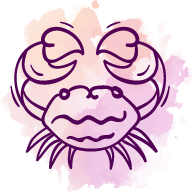 01/05/2020 by WWW.CATHERINEBEWTAROT.CO.UK 0 Comments
CANCER: (June 22 - July 22) "Six of Wands"
Well done Cancer! May sees you not only accepting your enforced "imprisonment"
but, if not enjoying it, at least utilising the time to the best of your
ability. There is a sense of achievement throughout the month which may relate
to successfully completing an online course, a diy project, writing the first
few words or chapter of the book you've finally got the guilt-free time to begin,
etc. etc. You may be looked to for leadership from those needing guidance and
reassurance. These might be work colleagues or employees. Your feelings of hope,
determination and enthusiasm for doing what you must to achieve progress, physically,
mentally or emotionally, will inspire you to make this a very busy few weeks.
There is much you can achieve Cancer, and success is within your grasp, so
refuse to allow doubt in your abilities to creep it. Banish it, I say!!
Feed