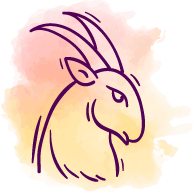 01/03/2020 by www.catherinebewtarot.co.uk 0 Comments
CAPRICORN
(Dec 23 - Jan 20)
"Six of Cups"
The focus may be on the younger members of the family this month
Capricorn. There may be family visits to an animal sanctuary, wildlife park or somewhere
where there are petting animals for young children. There may also be a health issue
with the family pet but, if so, this will be successfully resolved. Some of you
may be thinking of acquiring a new pet, or rescue animal. Large open spaces
feature where children can enjoy the opportunity to run freely in the fresh
air. Happy memories will be made. The adults will look on and perhaps find
themselves reminiscing and sharing stories about their own childhoods. These
memories may come with a tinge of regret for a time long gone before the
responsibilities of being an adult banished childhood forever.
Feed