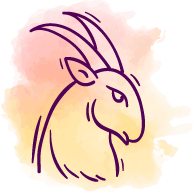 01/05/2020 by WWW.CATHERINEBEWTAROT.CO.UK 0 Comments
CAPRICORN: (Dec 23 - Jan 20) "Ace of Pentacles"
You may be offered, or come up with, an opportunity to earn some money
during your self-isolation Capricorn. This may be as the result of a
collaboration with another in pooling your time and/or resources in establishing
a new business or committing to working together towards a future goal when the
time is right. This month may also provide
you with the insight you may have lacked in resolving a long-standing dispute
with a large organisation. Do not hesitate to ask for professional advice from
those skilled in negotiation or mediation. Being too close to what is going on
may have prevented you from being able to see what is really going on and
realising that you already possess all that is required for a speedy and final
resolution. Do not make it harder than it needs to be.
Feed