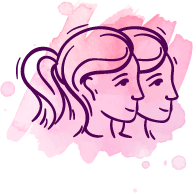 01/03/2020 by www.catherinebewtarot.co.uk 0 Comments
GEMINI
(May 22 - June 21)
"Three of Swords"
Trouble relating to a threesome of some kind may have you wishing March
was over sooner rather than later Gemini. This may be as a result of three
people involved in a relationship meant for two, a trio of work colleagues
proving troublesome, or harsh words spoken on at least three occasions. Remember
the saying, "sticks and stones may break my bones, but words can never hurt me,"
and behave accordingly. If there is an ongoing health issue that needs dealing
with or a minor operation scheduled for March, look forward to a successful
prognosis. It's normal to feel fear when health is threatened but thinking
positive also promotes a successful outcome. Although this month may prove far
from easy, once March is over, the following months could prove enjoyable, so
keep that positivity going.
Feed