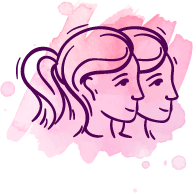 01/05/2020 by WWW.CATHERINEBEWTAROT.CO.UK 0 Comments
GEMINI: (May 22 - June 21) "Queen of Pentacles"
Your family is your main area of focus in May Gemini, so there may be
plans afoot which involve closer, hopefully, virtual contact between you.
Younger members of the family may seek out your time online to vent feelings of
frustration and anger at being confined indoors and missing their friends. As always,
your wise words and ability to communicate your love for them will reassure and
calm them……until the next time. You must lead by example as they will seek to function
through these troublesome times by doing what you do. Yes, it is a great
responsibility lovely Gemini, but you are more than capable of going that extra
mile when it relates to those you love the most. Share your acceptance of what
is going on in the outside world with anybody who will listen and your
determination to do your bit to help reach a positive outcome.
Feed