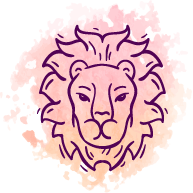 01/03/2020 by www.catherinebewtarot.co.uk 0 Comments
LEO
(July 23 - Aug 21)
"Six of Pentacles"
June may bring you rewards in the form of an unexpected windfall or perhaps
a bonus in recognition of your efforts in your job or career Leo. You like the
finer things in life so treat yourself without feeling guilty about the
expenditure, not that you ever do, feel guilty that is! Pay off any outstanding debts incurred by
former lean months money wise. As word of your increased financial status
spreads friends and/or family may approach you requesting a share of your
newfound wealth or a loan. However, I don't need to warn you to be careful as
your thrifty and insightful nature will guide you in having no hesitation in a
polite but forceful refusal. After all, this is YOUR money, to be spent on
improving you and your family's lives.
Feed