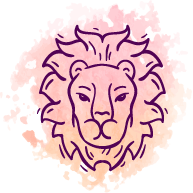 01/04/2020 by www.catherinebewtarot.co.uk 0 Comments
LEO: (July 23 - Aug 21) "King of Wands"
The wonderful King of Wands tells us there's no stopping you this month
Leo! Not that that's a surprise! Your canny mind is brimming over with new
ideas, especially in relation to making speedy financial gains. The phrase "One,
man's rubbish is another man's treasure" springs to mind. However, it's
reassuring and inspirational to others to witness your positive attitude and
willingness to make the best out of the somewhat dire situation the world finds
itself in presently. Being called upon to use your leadership skills will further
inflate your already healthy ego but, as you always do Leo, you will prove the
trust placed in you well merited. People will be drawn to you for guidance and
a chance to be in the presence of someone upbeat, positive and a ray of sunshine
in the gloom and doom of present-day life.
Feed