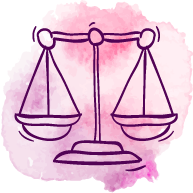 05/06/2020 0 Comments
LIBRA: (Sep 24 - Oct 23) "Queen of Wands"
Busy with a capital B this month Libra. Something has caught
your interest and has you exploring the ways and means to get started on your
new idea or project. However, don't allow impatience to have you "jumping the
gun" or you'll fail the race before you've begun. Careful and deliberate
planning is called for to ensure the best outcome personally for you. Think
before you leap sounds about right for you for June.
Feed