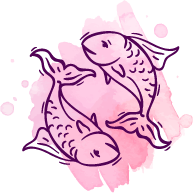 01/03/2020 by www.catherinebewtarot.co.uk 0 Comments
PISCES
(Feb 20 - March 20)
"Five of Cups"
What you need to keep in mind this month Pisces is that what's done is
done! There's no going back. Believe that the Universe has granted you a favour
in taking out the "trash" (who or what) for your own good. Your suffering had
been noted and a process put in place to relieve you of your burden. The way cleared
ready for whoever or whatever is meant for you to materialise. So, pull on your
big girl or boy pants, take a deep breath, and prepare to welcome and enjoy what
life has in store for you in the very near future. Before the month is out, you'll
be giving thanks for your newfound freedom, your tears and heartbreak a fading
memory. There is an abundance of potential around you so believe that your cup
is half full rather than half empty and you're already on your way to making
the following months memorable.
Feed