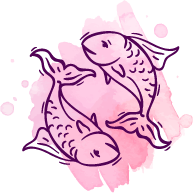 01/04/2020 by www.catherinebewtarot.co.uk 0 Comments
PISCES: (Feb 20 - March 20) "Four of Pentacles"
Your dreams of journeying to far off exotic lands may have been put on
hold for a while Pisces but there's nothing to stop you planning ahead. Retrieve
those travel brochures from the drawer you consigned them to or, better still, send
for new ones. Perhaps your need to travel is driven by a dream to make your
business international, gain overseas custom, attract new investors? If so,
although you may be restricted by present travel restrictions, there is always
the internet, a global highway to anywhere and anyone in the world. If you feel
you don't possess the technical skills to do so successfully then seek out
someone to help you. This month may find you missing someone who lives abroad
and who hasn't been able to visit for longer than usual. Try to find comfort in
the fact that you're not alone with these feelings due to present circumstances
and, remember, it won't be forever. Don't share any work- or business-related
plans or ideas but keep them close to your chest.
Feed