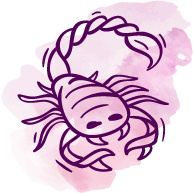 01/05/2020 by WWW.CATHERINEBEWTAROT.CO.UK 0 Comments
SCORPIO: (Oct 24 – Nov 22) "Four of Wands"
If you have been waiting for reinforcements in the form of people
joining your "cause" Scorpio, then wait no more as May ushers them in. There is
a successful solution to be found in where it is you work brought about by a
lightening of the load you have been experiencing for some time. The phrase "Many
hands make light work" springs to mind. You have done a great job so far but
may feel you are beginning to flag a little with the overwhelming pressure to do
your utmost for those in your care. Knowing that you and others are indeed not
alone in your struggle proves to be the best medicine. The added resources
coming to "rescue" you and others lifts your mood and the feeling of relief is
incredible. There may also be tears!
Feed