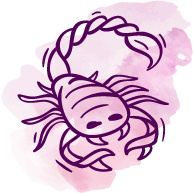 01/04/2020 by www.catherinebewtarot.co.uk 0 Comments
SCORPIO: (Oct 24 – Nov 22) "Knight of Pentacles"
Matters pertaining to your home, health and family take precedence in
April Scorpio. Your keyword is dependability, i.e. being where people know
where to find you, and available for advice. New ideas on ways of earning more
money and thus increasing the family finances could prove viable but you should
commit them to paper and do your research before committing yourself. Travel
plans may be put on hold so no surprise there then! However, this will prove a
blessing considering what or who takes their place. Others may need reassuring
that you're in it for the long-haul and won't bail out if and when the going
gets tough. Make the best use of any extra free time to re-organise paperwork
more efficiently, rearrange or purchase furniture, or just roll up your sleeves
and organise a long-overdue Spring clean.
Feed