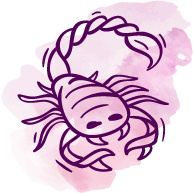 05/06/2020 0 Comments
SCORPIO: (Oct 24 – Nov 22) "Nine of Cups"
Ah, the "wish card" Scorpio, aren't you fortunate? To say
all is well in your world in June is an understatement! Wishes, dreams, goals
are all within your reach and, all it may take to manifest, is you taking
whatever steps or action needed to completion. Might be time to propose
marriage, try for a baby, ask for a pay rise, strike out on your own, etc. The
9th day of the month may hold special significance or become one of
special significance.
Feed